"May Northcott is a woman at the end of her rope. She'd almost gotten used to her employer, the ex-demon lord Magoth, spending his days hanging around her home and interrupting her private moments with her dragon lover Gabriel. Then trouble appears in the form of a nearly dead man on her doorstep.

With May fighting to control the dragon shard, Magoth wrangling to regain his position and powers, and a mysterious and deadly dragon bent on their destruction, Gabriel has his work cut out for him. Now, he'll have to claw his way through all the distractions and convince May that their love is strong enough to conquer all of their enemies."
I love Katie MacAlister's books, why, because f the humour and characterisation, any book which as me hunting for when the next is out and the laughing at a demon dog is for me, that and the fact Drake is sex on legs and can give me his fire any time. That is how I came to these books through the Aisling Grey series, and whilst I do enjoy the silver dragon books hugely, my favourite characters are still those from the first novels, Jim, Aisling and Drake. This book is hugely entertaining and packed with story, Aisling finally gives birth, Kosta declares his love for someone and we find out more about Baltic.
What intrigues me more is where this series is going, the extract from the new book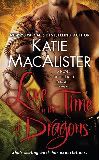 which is hidden at the back of the book, a story where Baltic (the enemy) is a hero! I know! I so want t read this one.
An enticing intriguing read!