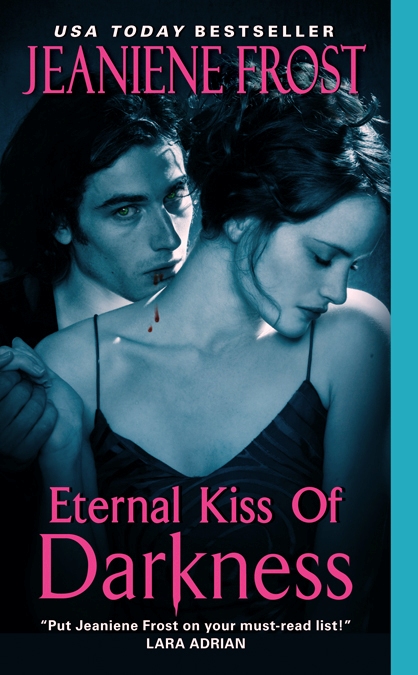 An immortal war has been brewing in the darkness…and now one woman has stumbled into the shadows.

Chicago private investigator Kira Grace...more
By Jeaniene Frost
An immortal war has been brewing in the darkness…and now one woman has stumbled into the shadows.

Chicago private investigator Kira Graceling should have just kept on walking. But her sense of duty refused to let her ignore the moans of pain coming from inside a warehouse just before dawn. Suddenly she finds herself in a world she's only imagined in her worst nightmares.

At the center is Mencheres, a breathtaking Master Vampire who thought he'd seen it all. Then Kira appears—this fearless, beautiful…human who braved death to rescue him. Though he burns for her, keeping Kira in his world means risking her life, yet sending her away is unthinkable.

But with danger closing in, Mencheres must choose between the woman he craves, or embracing the darkest magic to defeat an enemy bent on his eternal destruction.
I am in love, it is true, I am in love with Mencheres! Raaaaaawr! The second in Jeaniene Frost's Nighthuntress World Novels, Eternal kiss of Darkness follows the story of Mencheres, Bones' Grandsire and the continuation of his personal struggle after the end of Destines for an Early Grave. Having lost his visions and seeing only darkness Mencheres believes he has nothing left to live for, particularly after his 'estrangement' from Bones and Cat.
Mencheres believes he has nothing to live for, that ennui has set in and brought with it a death wish, for his death. Separating himself from his line and his friends he sets out to settle an old feud. However like this book, life takes a twist and things are not always what they seem, in steps Kira, who in the beginning of the novel interrupts a ghoul attack, a ghoul attack she later finds out he easily could have escaped from, but by doing this she puts herself in mortal danger.
I really liked this book, like First Drop of Crimson, don't expect it to be like a Bones and Cat book, even though they do make an appearance (along with Vlad Tepesh! I hope he and Ian get their own book, if they need a heroine I am available and free =P.) As I said in my review of FDC if you expect that, then you may well be disappointed. This venture into the Nighthuntress World is more engaging than the first, the character of Kira in particular, she is feisty and due to her upbringing very caring and empathetic. She is what Mencheres didn't know he was craving.
What I especially liked was how much we got to know Mencheres, in the other books he seems ancient, because he is, but ancient and cold, aloof from the rest of the world. In this book we see ow much he can feel and how his past has affected him.
A thoroughly good and sexy read (ceiling, shower and being late for a meeting and showing up in a sheet, need I say more, Mencheres popped his 900 year old celibacy cherry with a bang!) A definite requirement for this summer!
I give Eternal Kiss of Darkness 4.5 frilly knickers out of 5! A frilly bikini bottom read.